Bee
$75.00 – $135.00 incl. GST
Our newest Published design (June 2021) is the Bee.
Aotearoa New Zealand has 28 native and 13 introduced species of bee. They all feed on nectar and pollen and have some role in pollinating plants. Most native species look similar to honeybees, but are smaller. Others are smaller still and do not resemble honeybees. Five of the honeybee species were accidentally introduced. The four Bombus species are bumble bees and are not farmed for honey production. New Zealand's 300,000 commercial hives produced an average of 9,000 tonnes of honey each year between 2001 and 2005.
Constructed from 12mm Plywood Outdoor treated H3 CD Grade Pine Ply.
Decorate them how you like, we supply the raw material ready for your imagination and installation. These are intended for landscaping and are machined/finished to appropriate standards for such use. Ideal for use in an outdoor setting or to replace an old trellis.
Our decorative screens can be painted, stained, varnished, or left a-la-natural. They can be back lit, or used to throw out shadows.
NB – Wooden panels come bare, images of painted and decorated products are examples only.
Large 1200mm x 800mm x 12mm
Small 800mm x 600mm x 12mm
© NWC 2021
Panel Sizes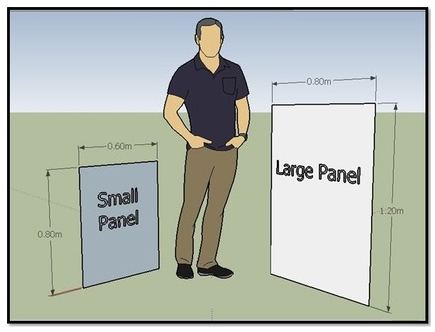 | | | | |
| --- | --- | --- | --- |
| Size | Height | Width | Thickness |
| Small | 800mm | 600mm | 12mm |
| Large (vertical) | 1200mm | 800mm | 12mm |
| Large (horizontal) | 800mm | 1200mm | 12mm |
Only logged in customers who have purchased this product may leave a review.